10 Passenger Vehicles with Price updates & features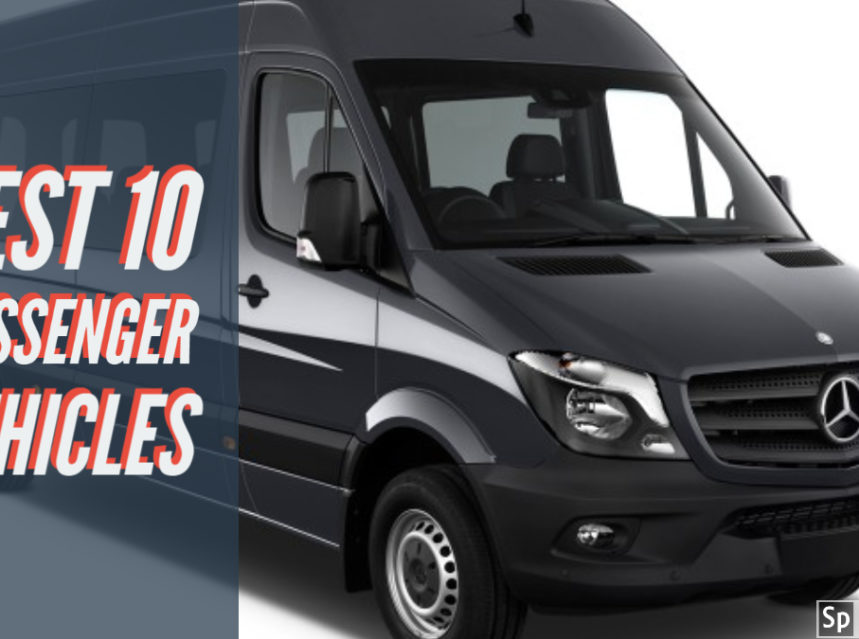 Looking for a 10 passenger vehicle? Are you having the large group of family of your loved ones for every weekend gateway plan? Choosing a large vehicle for family requires serious level of plans and thoughts so that you get the ideal van. Have you ever wanted to take the family or a group of friends on the road but couldn't because you didn't have enough seats? You may not need to be troubled by this problem much longer. Meet the latest 10 seater vans!
Following is the ultimate list of 6 vehicles which have 10 passenger's seating capacity (many of them have more than 10 capacity). We have compiled the prices as well as their ratings.
Advertisement:
[wp_ad_camp_1]
List of 10 Passenger Vehicles
1) Ford Expedition EL
Price USD $ 48,320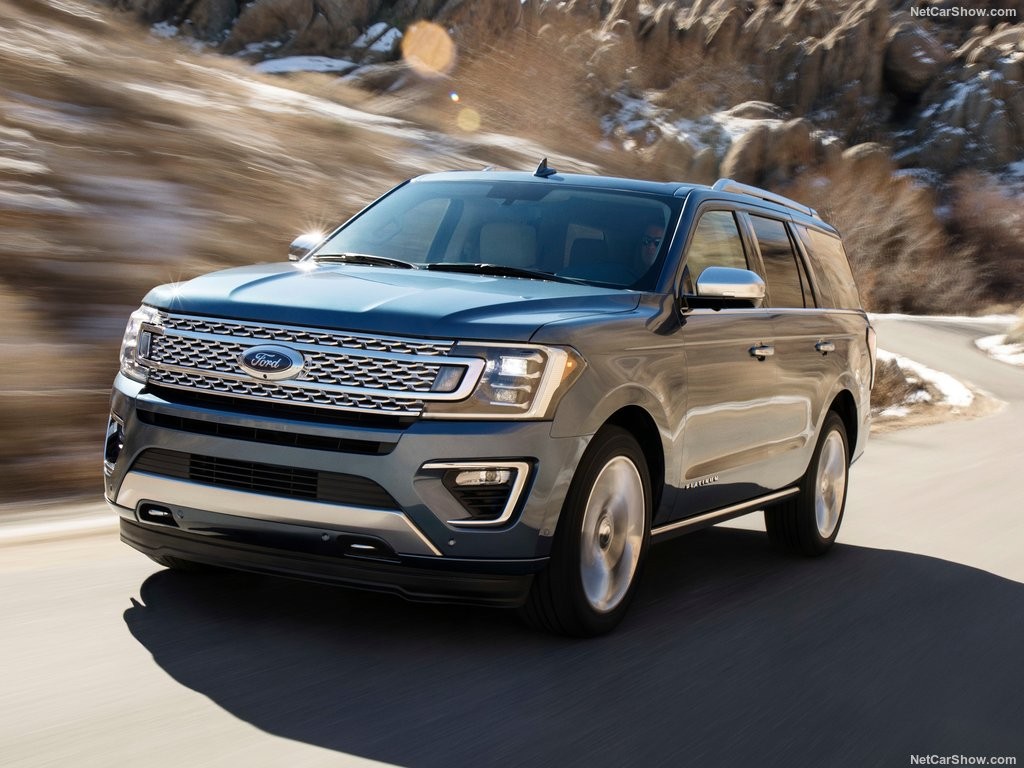 The Ford is the brand which everyone is aware of. It has survived many generations and thus it has given us a passenger van for 10 by the name of Ford Expedition EL.  The Ford Expedition EL can accommodate 10 passengers along with cargo space. The Ford Expedition is equipped with a twin turbo 365hp V6 engine with a capacity of 3.5 litre volume. That's enough power to haul large group of 10 people. Also the towing capacity of Ford Expedition EL is better than other competitors, it can tow maximum 9,200 lb.  With the top speed of 113 mph, it can go almost any place within shorter span of time. The Ford Expedition can easily reach 60 mph within 6.4 sec. It's one of the best 10 seater suv in the category.
---
2) Nissan NV3500 HD
Price USD: $33,800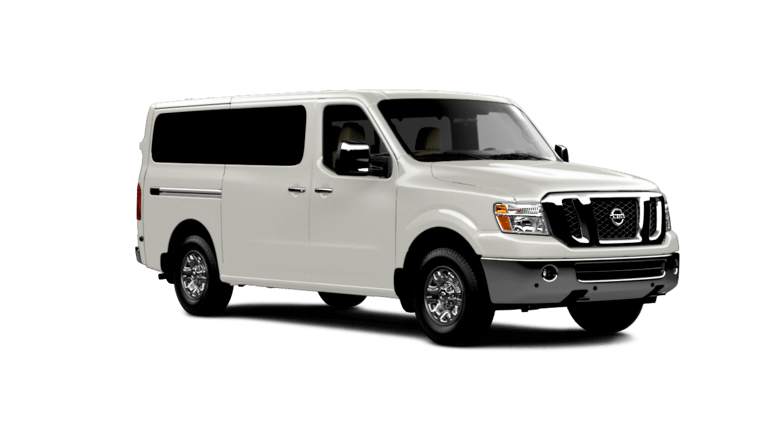 Nissan NV3500 HD is the ideal 10 passenger vehicle which stands for being versatile, reliable and ready to carry large families or groups. The NV has got the bang for bucks because of it's valuable Bumper to Bumper warranty.  As a matter of fact the NV can accommodate 12 passenger with optional seats configuration. The NV is equipped with V6 and V8 engine with 261hp and 375hp respectively. The NV has got the towing capacity of 6,200 lbs – 8,690 lbs which makes it stand apart from other rivals. In terms of safety concerns The Nissan NV3500 HD has got pretty much eye grabbing features such as Driver and Front passenger air bags, Roof Mounted curtain air bags, largest brakes with 4 wheel anti-lock braking system.
Advertisement:
[wp_ad_camp_2]
---
3) Chevrolet Express
Price USD $31,600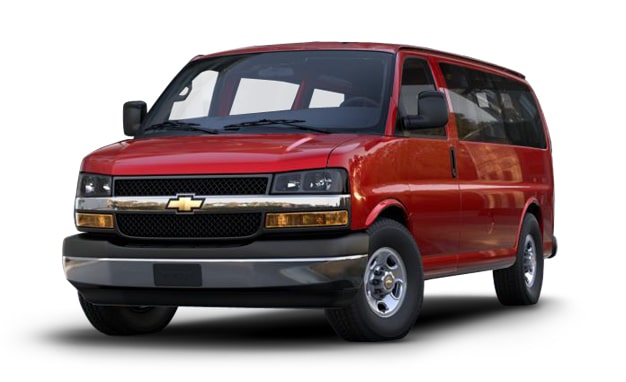 The Chevy Express van is something which would make you feel old yet the humble charm of this 10 passenger vehicle will make you awe for it. The simplicity of practical interior with sturdy chasis and boxy designs is something which make Chevrolet Express as the ideal passenger vehicle which can accommodate 10-15 passenger at a time. The Chevy express boasts V8 engine with power range of 285hp – 342hp. With towing capacity of 10,000 lbs the Chevrolet Express can easily do tough jobs.
---
4) Ford Transit
Price USD $32,805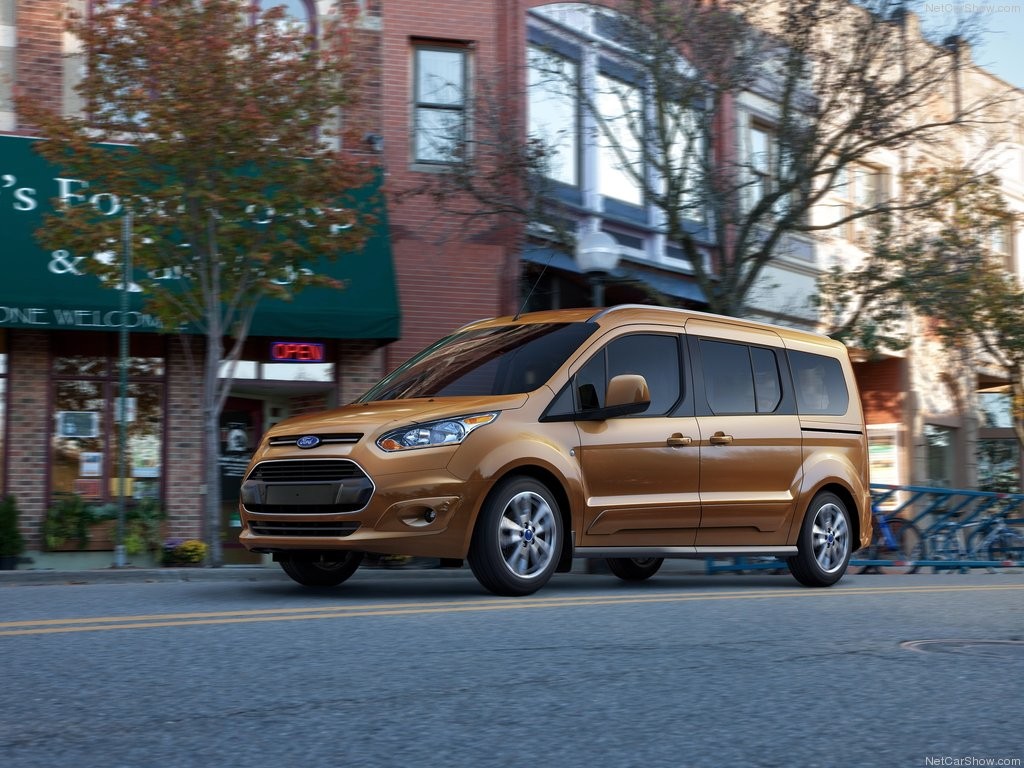 The Ford Transit is one of those passenger vehicles which can serve both as cargo mover as well as people mover with seating arrangement of upto 15 people. The Ford Transit has got two variants of engine configurations ie. Twin Turbo V6 with 310hp and 275hp V6hp. The Ford Transit has got the top speed of 97mph with rear wheel drive configuration.
---
Price USD $33,490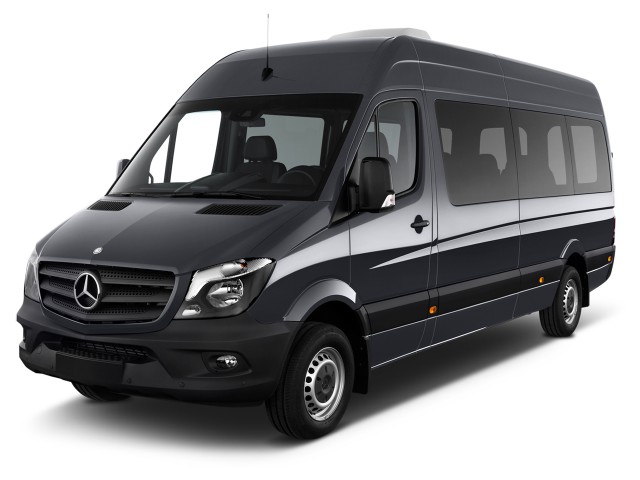 Want to have an ideal 10+2 passenger vehicles which serves both as cargo as well as people mover? Mercedes Benz Sprinter can be the perfect option. The Mercedes Benz Sprinter comes in 2 powertrain variants ie. 161hp 2.1 litre turbo diesel and a 188hp 3.0 litre turbo diesel V6 with rear or all-wheel drive option. The Sprinter reaches 60mph within 11.6 sec with top speed of 82mph.
---
6) GMC Savana
The GMC Savana is the passenger vehicles with practical purpose of features.  It can easily accommodate 12 to 15 passengers with large cargo space. Besides being a perfect 10 passenger vehicle, GMC Savana serves as the perfect full sized cargo van. The engine powertrains of GMC Savana are 285hp V8 and 342hp V8 with rear wheel drive through six speed automatic transmissions.
---
7) 2017 Dodge Ram ProMaster
Price USD $23,445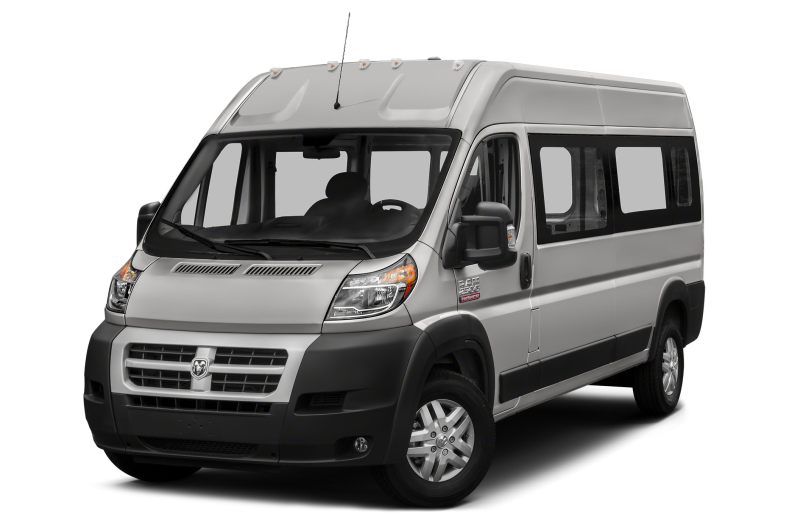 When it comes about looking for best 10 passenger vehicles with European designs, The 2017 Ram ProMaster is the answer. The 2017 Ram ProMaster is the perfect 10 seater MPV for hauling passenger as well as the cargo. With ample of space, great interiors and powerful engine performance The Doge Ram ProMaster gives a touch competition to it's rivals.
The  Dodge Ram ProMaster gives the tight radius direction because of front wheel drive configuration.
It's available in Gas as well as Diesel engine models, so that's an added benefit.
With wide windshield the Dodge Ram ProMaster provides excellent forward visibility.
But with some pros there are added cons also which make us cringe for Dodge Ram ProMaster.
The ride quality of this van is little bit lower compared to other van's. The engine power sometimes feel little bit light and the steering wheel is not tilt adjustable.
Overall the Dodge Ram ProMaster stands as an Okay to go Van with 10 passenger seating capacity.
Did we skip any 10 passenger vehicles?  If yes , let us know in comment box. 🙂
---
What is a 10 seater van?
A 10 seater van is typically a commercial passenger vehicle that can fit up to 12 people at one time. They are usually used for transporting passengers and things like groceries in the US, but they have been used in other countries as ambulances, school buses, and commuter buses.
---
Reducing your carbon footprint is not the only reason to consider a 10 seater van. They are also great for transportation of large groups, or even transporting heavy items that won't fit in smaller vehicles. It makes sense to invest in one if you need to move every day for work, like a delivery person.
---
How to find the right 10 seater van for you and your family
10 seater vans are a popular choice for families. They are spacious, comfortable, safe, and reliable. But finding the right one can be difficult. We recommend looking at the various manufacturers that provide 10 seater vans, such as Chevrolet and Chrysler. Speak to each company about their vehicles and compare the features of their vans before you make your final decision.
---
Common misconceptions about 10 seater vans
Some people believe that 10+ seater vehicles are outdated, inefficient, and too big for their needs. This is not the case. These vehicles are actually very fuel efficient. They also have a great safety rating with most crashes involving only the vehicle in front of the van. With new technology like lane-keeping assistance, drivers can stay focused on what's ahead instead of worrying about braking or steering.
---
Buying guide for Choosing Right 10 Seater Vans
10 seater vans are very spacious and can be used for many different purposes. They're usually perfect for big families or small businesses. It's helpful to know your needs before buying one so you don't overpay or get the wrong vehicle for your needs. 10 seaters come in all shapes and sizes and that's why you need to do your homework before you search for 10 seater car for sale. Even if it looks like the car of your dreams, the best advice is to check it out thoroughly first.
There are quite a few different body styles for vans and that's why you need to know what suits your needs. Some are designed for severe conditions and can go off-road, others are just regular family vans. They all have their upsides so it basically comes down to personal preferences here. For example, a people carrier is spacious, but it isn't very practical if you want to use it for work purposes.
Important to Read: 10 Passenger Vehicles (with 2022 Price updates & features)
Things to consider while choosing passenger vans?
Some van manufacturers make special vans for travelling with kids. These are usually called people carriers and you can find them in all shapes and sizes. There are long wheelbase versions, but also extra passenger-friendly ones. Some models can also be equipped with a special side door that opens up the whole width of the vehicle (great for getting in and out).
What about their engine?
Most vans have diesel engines. Petrol engine versions are less common, but do exist. It's good to know that petrol engines are more fuel friendly and have better performance than their diesel counterparts. However, diesel vans have better range and last longer than petrol ones.The list goes on, but these are the basics to get started with choosing your new passenger vans for work
Which is best 10 passenger SUV in United States?
The most popular 10 seater SUV in the US is the Ford Expedition.
Which are vehicles that seat 10 passengers mini van?
A Honda Pilot, Toyota Minivan and GMC Yukon. They seat 10 passengers by including a center pass-through area and folding down the armrest of the middle row.
Which are 10 seater cars in the United States?
The best 10 seater cars in United states are:1. Chevrolet Suburban2. Lexus LX 5703. Cadillac Escalade EXT4. Lincoln Navigator5. GMC Yukon XL6. Toyota Sequoia Limited 7-seat SUV7. Honda Pilot EX-L 7-seat SUV . These are the cars that can hold 10 passengers easily.
Which is the best 10 seater car in 2022?
The best ten seater vans in 2022 will look and feel like Mercedes-Benz.Contrary to what you may think, it's not because "Mercedes" is the answer. It's because of a little thing called "Coupéd Utility Vehicle (CUV)". CUVs are vehicles that look like cars and drive like cars, but have an open back for hauling things around. Most CUVs on sale today are crossovers or SUVs (Jeep Wrangler being the best example). Of these, the most popular CUV are Mercedes-Benz GLE Coupé and BMW's X6 Coupé .
What SUV holds 8 passengers?
GMC Yukon – Passenger capacity: 9Cargo capacity: 15.3 cu. ft.Horsepower: 355 hpMPG: 16 city / 23 highwayMSRP: $50,695
Ford Expedition – Passenger capacity: 8Cargo capacity: 16.9 cu. ft.Horsepower: 375 hpMPG: 17 city / 24 highwayMSRP: $52,810
Chevrolet Tahoe – Passenger capacity: 8-9Cargo capacity: 15.3 cu. ft.Horsepower: 355 hpMPG: 16 city / 23 highway MSRP: $49,495
Toyota Sequoia – Passenger capacity: 8-9 Cargo capacity: 17.1-19.9 cu. ft Horsepower: 381 hp MPG: 13 city / 18 highway MSRP: $48,325
Nissan Armada – Passenger capacity : 8 Cargo capacity : 16-17 cu ft Horsepower : 390 hp MPG : 14 city / 19 highway MSRP : $46,090
What vehicles can seat 9 passengers?
Here are 9 popular passenger vehicles that can seat at least 7 passengers:
1. Toyota Highlander – The Toyota Highlander is a popular SUV that seats up to 8 passengers. It has a comfortable interior and plenty of space for cargo.
2. Honda Pilot – The Honda Pilot is another popular SUV that can seat up to 8 passengers. It's known for its fuel efficiency and smooth ride.
3. Ford Explorer – The Ford Explorer is a large SUV that can seat up to 7 passengers. It has a spacious interior and plenty of room for cargo.
4. Chevrolet Tahoe – The Chevrolet Tahoe is a full-size SUV that seats up to 9 passengers. It's known for its off-road capability and towing capacity.
5. Nissan Pathfinder – The Nissan Pathfinder is an SUV that seats up to 7 passengers. It has a comfortable ride and plenty of space for cargo.
6. GMC Acadia – The GMC Acadia is an SUV that seats up to 7 passengers. It has a stylish interior and plenty of room for cargo.
7. Dodge Durango – The Dodge Durango is an SUV that seats up to 7 passengers. It'
You May Read:
9 Passenger Vehicles : Ultimate List with Price updates and Specs
8 Passenger Minivan Rental List with prices
10. Most Reliable trucks from 2018
12. How much does a Lamborghini Cost?
13. 10 Best Driving and Racing Games