VW ID Buzz (Electric Microbus) – 10 Features you can't miss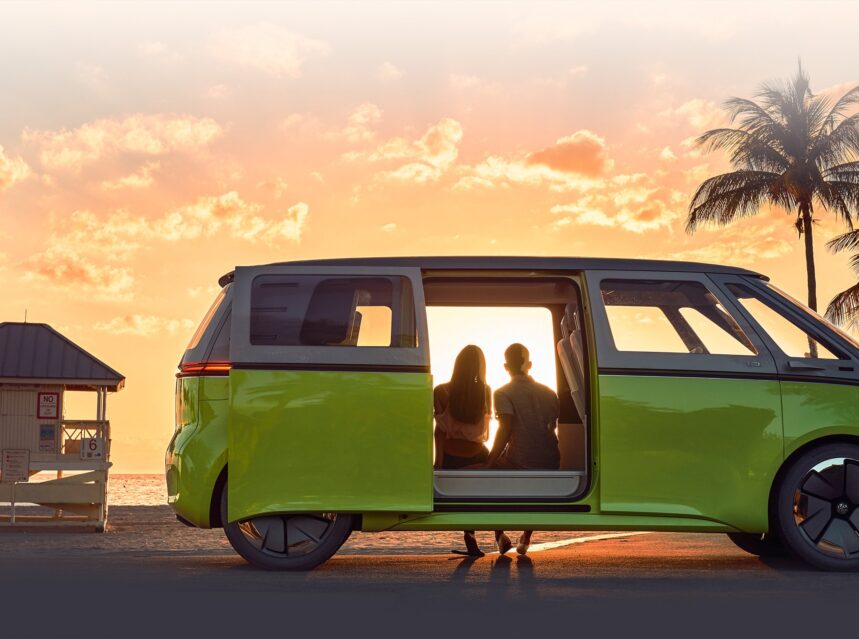 Volkswagen recently unveiled it's next generation electric microbus named as VW ID Buzz Concept. The pre-booking of passenger model has already started and if you're thinking whether it'd be a right choice for you or not, here are some of the key features which make it stand apart from the other electric vehicles.
Note: The Volkswagen ID Buzz will be available in market for general public in early 2024 – source VW official website.
So here are some of the remarkable features which you'd get in the upcoming microbus of the future – VW ID Buzz
1. Minimalistic Approach for interiors: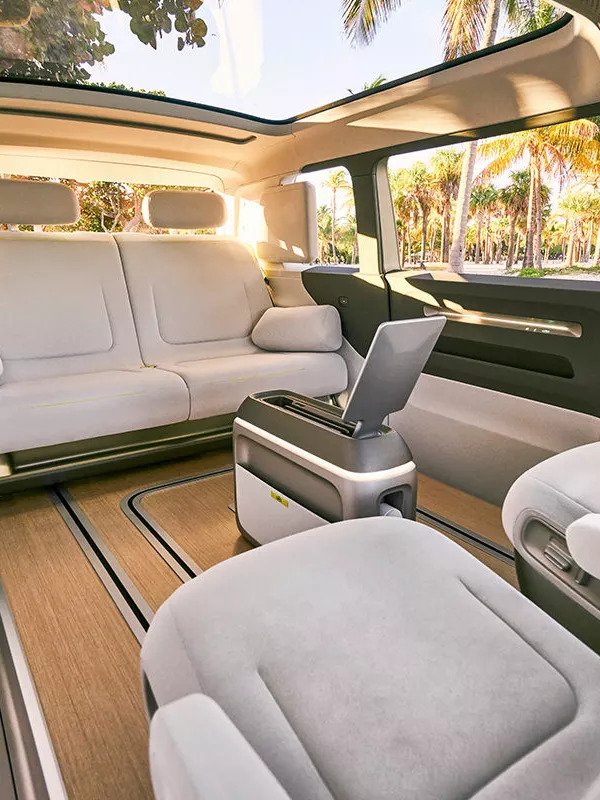 The VW ID Concept is advanced yet simple in interior design layout. The dashboard encompasses most of the tech features in intuitive infotainment screen without covering chunks of the space. Furthermore addition of sunroof and spacious interior makes it look like a vehicle for family and friends.
2. Advanced steering wheel: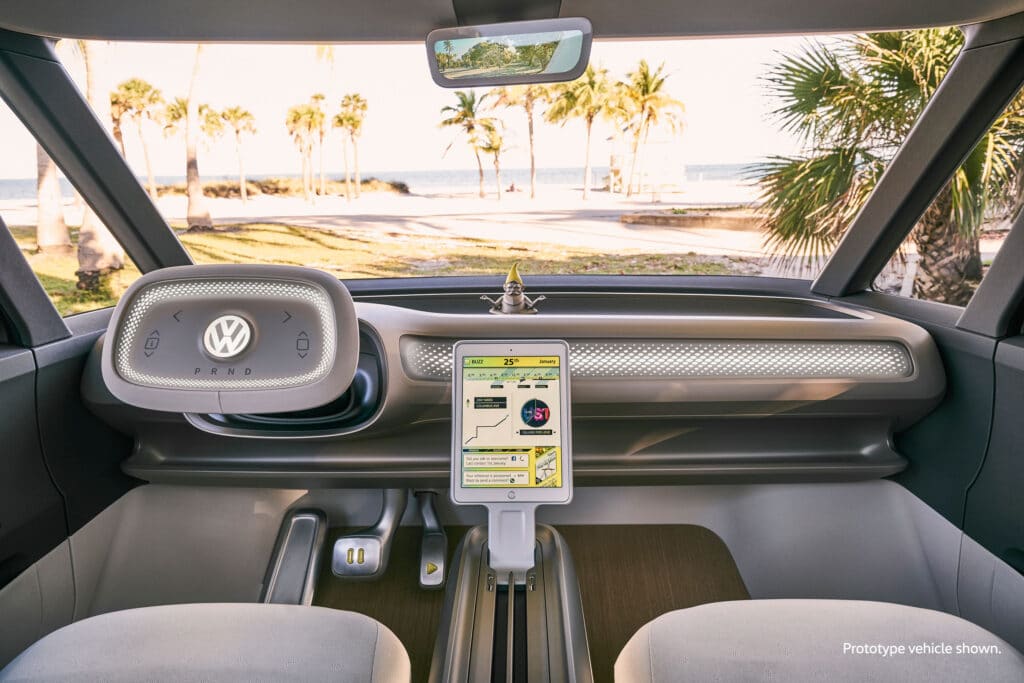 Yes its in somewhat curvy rectangular in shape with all necessary controls on the steering itself. That saves a lot of space of dashboard and also makes the driver to have confidence on vehicle control without attention diversion to nearby spots.
3. The dynamic classic – modern design of ID Buzz: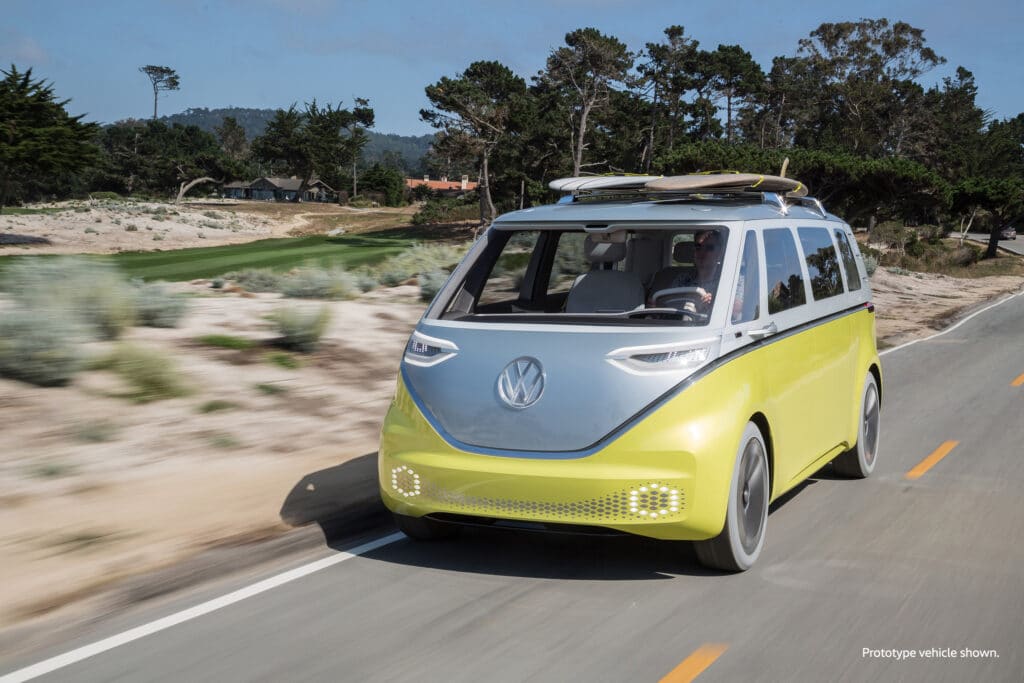 VW guys ensured to bring the signature look of its old minibus to be blended into modern touch without ruining the beauty. The signature V shaped look is more appealing in the new ID Microbus and the front area of the bonnet has been assigned for AC vent and luggage compartment whereas the back area has been allocated for roomy space with three air vents.
4. Autonomous Driving:
Perhaps this would be the biggest feature in EV segment after Tesla. The new van will have the automated drivetrain which pushes the steering wheel into dashboard after being enabled. This feature gets aid from the on board sensors and cameras for safe and comfortable driving experience.
5. Perfect speed:
The EVs are well known for their instant torque and that doesn't leave VW ID from this trait. The VW ID Buzz Microbus is touted to have 0-60 miles/hour speed in less than 5 seconds. The RWD variant will have 200 horsepower whereas the AWD version will have 300 horsepower. That's enough power for an electric vehicle meant for groovy traveling at top speed of 99 miles/hour.
6. Rapid Charging of ID Buzz:
By placement of the 48kWh – 111kWh battery pack in mid of the chassis platform and combining with 2 separate motors at both axles, VW team have ensured to get this microbus fully charged in approx. 30 minutes! As per latest reports, VW is going to provide induction charging facility as well.
7. Advanced infotainment: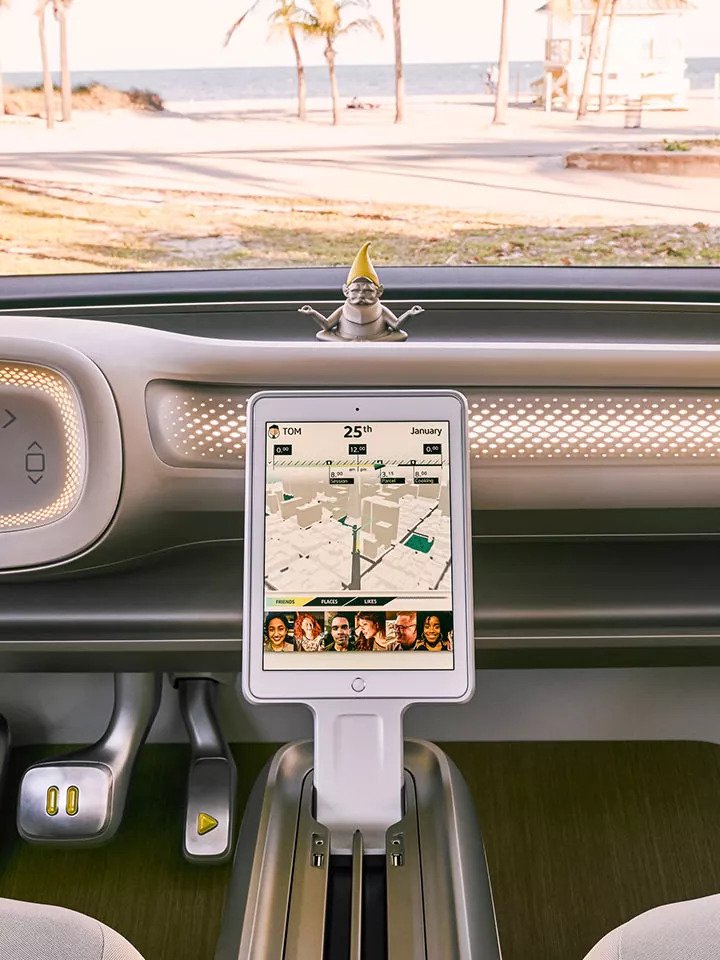 The Volkswagen' ID will be equipped with augmented reality heads-up display in the windshield for aiding the drivers in their driving. There is a large infotainment screen at the center of the dashboard which would have Android Auto, Apple Car Play, Wi-Fi and Blutooth connectivity. There's more to it but we couldn't verify it from VW website.
8. Versatile Cargo Configurations: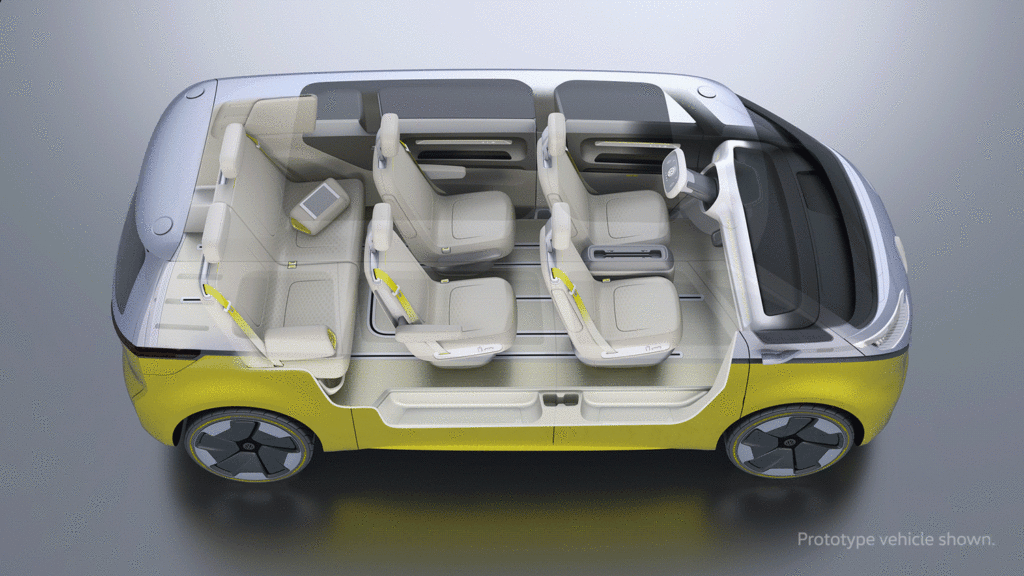 The VW ID has 3,300 mm (130 inches), a length of 4,942 (195 inches), a width of 1,976 mm (78 inches), and a height of 1,963 mm (77 inches). This gives plenty of options to configure this microbus from 5 Seater to 7 Seater vehicle. VW is yet to reveal more about it however the initial preview concepts have showed it a good feature for the consumers.
9. Electric Camper Van in 2023:
As we have said in United States this microbus will launch in 2024 however for European markets it will be available in 2023. This would give a good time to observe and understand the consumer response to this microbus and eventually it'd help the VW folks to improve or add any additional features into the bus.
10. Affordability of VW ID :
As we know the current market of EVs is quite expensive and large masses of consumer are yet to embrace it. The German Brand aims to overcome it by providing competitive pricing range for their ID range. As per initial unverified sources it's said the VW ID Buzz may cost from $35K to $45K.
Some Frequently Asked Questions about VW ID Buzz
a. Is production of VW ID Buzz started?
The production of VW ID will start in early 2022, however the pre-orders have started at the official website of Volkswagen.
b. How much cost will be of VW ID Buzz?
As per reports, Volkswagen ID may cost from $40K to $50K.
c. What is maximum range of VW ID Buzz?
The maximum range of Volkswagen ID Buzz is expected to be approx. 340 miles.
Let us know in comments section; if you have any other questions or feedbacks related to VW ID Buzz.
You May Read:
Cool Cars with pop-up headlights